The superyachts of the Russian billionaire oligarchs still frantically search the world's waterways for safe havens, with some vessels employing desperate measures to evade detection and seizure by Western countries.
A $150 million superyacht owned by Russia's second-richest person, Leonid Mikhelson, who is facing sanctions, unexpectedly disappeared from radar for more than two weeks before reappearing on May 20, Bloomberg reported. .
According to vessel data obtained by Bloomberg News, the 85-meter (280ft) yacht named Pacific is sailing by Malta in the Mediterranean Sea. The vessel reappeared near the Canary Islands on May 20 after its positioning transponder was switched back on.
He had disappeared from radar 12 days earlier, just after reporting he was en route to the Bahamas, a country known for helping other governments seize boats.
While the yacht's ultimate destination is unknown, the Pacific flags Port Said in Egypt as its next stop. It has already been reported that he is on his way to Port Vell in Barcelona.
Following Russia's invasion of Ukraine, Spanish authorities confiscated at least four luxury yachts linked to blacklisted billionaires. After reaching Egypt, the yacht should go to the Maldives or Turkey. For the Russian oligarchs, these two countries are considered refuges.
Since the start of the Ukrainian conflict, at least five superyachts of Russian oligarchs reported having arrived in Turkey. Ankara has not yet imposed its sanctions against Russia.
Andrew Lipow, chairman of consultancy firm Lipow Oil Associates LLC, told Bloomberg: "Port Said is more likely to be an interim destination as it is heading through the Suez Canal on its way to another location. It's potentially going to the Maldives or some other place that's a friendly destination for Russian mega yachts.
Several Russian boats associated with Russian billionaires prowled around the Maldivian islands. The idea of ​​seizing yachts, according to Hussain Shameen, the Maldives' chief prosecutor, is "far-fetched" because the Maldivian judicial system is not robust enough. Authorities would be hard-pressed to seize a tourist boat unless a crime had been committed under local law.
Luxury yachts speeding through the seas
As the conflict in Ukraine enters its fourth month, Russian billionaires and tycoons are coming under increased scrutiny. The United States and the United Kingdom are among the countries imposing sanctions on people close to Russian President Vladimir Putin in response to the invasion.
On Wednesday, the European Commission revealed new measures to criminalize the circumvention of sanctions at the EU level, laying the groundwork for EU countries to seize the assets of Russian oligarchs.
Several European countries, including Italy, Spain and Germany, have already confiscated villas, bank accounts and luxury cars belonging to the wealthiest Russian nationals. According to reports, more than a dozen yachts worth more than $2.25 billion have already been seized.
These harsh measures have sent Russian ships rushing across oceans to places where restrictions are less likely to be imposed or enforced. Since the beginning of the invasion, some have even traveled more than 5,000 nautical miles.
Turkey has long been a preferred destination for Russian luxury yachts. For example, steel billionaire Alexander Abramov's $100 million Titan arrived through the Suez Canal in early May.
Other Russian-linked boats, such as the $300 million Ocean Victory owned by steel tycoon Viktor Rashnikov, remained silent after arriving in the Maldives.
The pacific
The Pacific, which is over ten years old, stands out for its sturdy shape and metallic finish that seems to change color in the sun. This magnificent vessel, which is 280 feet (85 meters), has quite a magnificent constitution, as it has been built by some of the biggest names in the industry.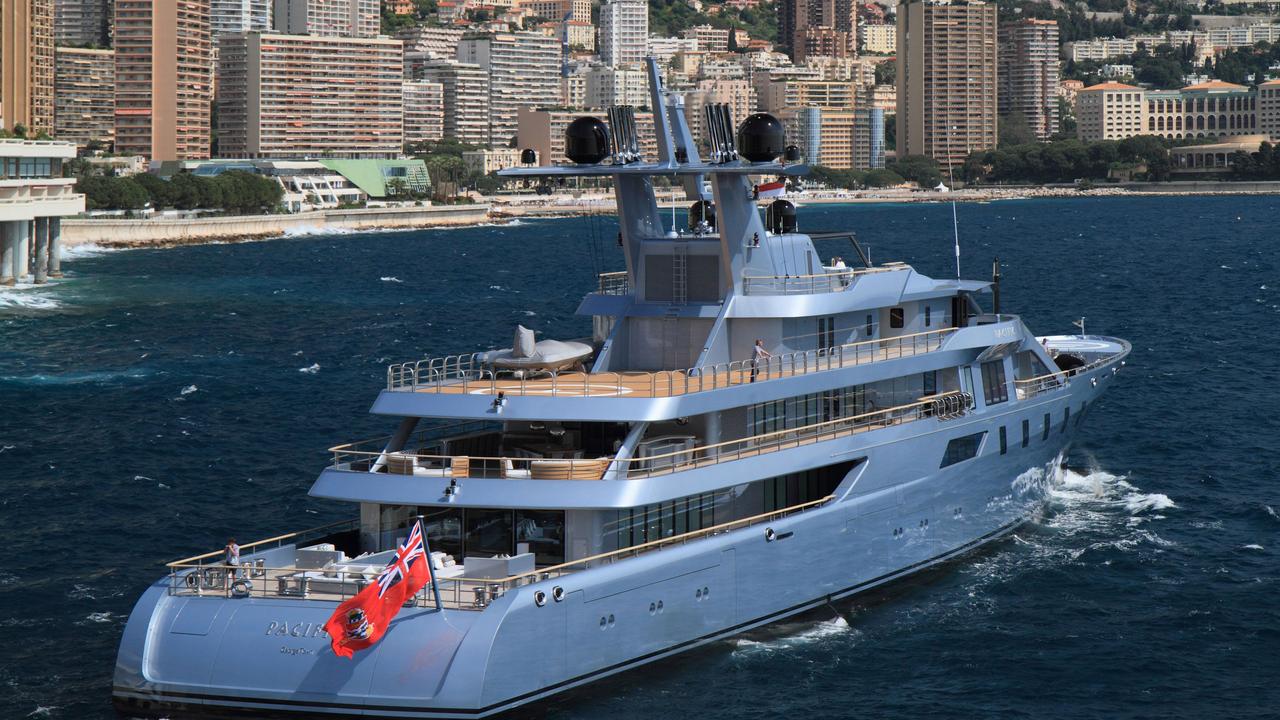 Pacific has a swimming pool, jacuzzi, gym and movie theater, like all luxury billionaire properties. The color-shifting silhouette and the two massive helipads are its distinguishing features, however.
It has been designed to cruise effortlessly around the world while reaching speeds of up to 20 knots (23 mph / 37 km/h) if required. Those features seem useful right now, as all of the billionaires' yachts that haven't been confiscated are on their way to safe havens.