With huge flower heads, hydrangeas have an old-fashioned charm that is hard to resist. The colors are gorgeous, with light blues, vibrant pinks, frosty whites, lavender, and rose. Easy to grow, they are summer staples in our region, a must in any partially shaded area.
Many of us have hydrangeas – most bloom beautifully, some don't. They don't like extremely hot conditions, so plant most of them in an area with afternoon shade. Often your hydrangeas don't bloom well because they actually need a little light – they won't bloom in dense shade. Limelights are an exception to this, however – they can catch more sunlight.
Hydrangeas aren't fussy, but they prefer rich, moist soil that drains easily. They appreciate a deep watering at least once a week, especially during dry weather. A layer of compost is helpful, as is a layer of mulch. Organic compost once or twice a year in spring and early summer is appreciated, but have your soil tested before fertilizing – you may not actually need it.
Hydrangeas – especially the smaller varieties – do well in containers. Choose the biggest pot possible – the more soil the better. Use a good quality potting soil and not regular garden soil. Plant the hydrangea at the same level it was in its original pot (i.e. don't plant it deeper or taller than it was already growing). Leave some space under the edge of the pot for watering. Gently tamp the soil around the roots to eliminate air pockets.
When the top centimeter of the potting soil seems dry, water your hydrangea thoroughly. After a while you will get an idea of ​​how often to water. You may need to increase your watering during times of drought or high temperatures. Fertilize once or twice a year – container growing is an artificial environment, so the usual rules about fertilizing don't apply as much.
One of the biggest questions with these beautiful plants, however, is when to prune them. The answer is that it depends. First of all, you don't have to prune if you don't want to! Simply clean up dead wood and prune dead flowers down to the first living buds. A good time to prune a flowering shrub is right after it blooms.
Hydrangeas come in several varieties.
Mophead hydrangeas (prune just after flowering):
• CityLine Mars — 1 to 3 feet tall. A small plant with showy magenta and white summer flowers. Long lasting flowers. Mildew resistant. Soil pH affects flower color. Salt tolerant.
• Mariesii variegate — Mariesii belongs to the lacecap group (flattened flower clusters composed mainly of small flowers, with a few sparse, showy flowers often forming a ring). It is a deciduous shrub with a rounded habit, usually growing 3-4 feet tall.
• Nikko Blue — Nikko Blue has large flowers arranged in clusters of globes or mop heads. It is a deciduous shrub with a rounded habit, usually growing 4 to 6 feet tall. Features clusters of pink or blue florets in large, rounded 4-5 inch mop tops, which bloom in June (often earlier than other varieties) for up to two months. Large, glossy, medium green foliage. Can get leaf spot diseases, which are usually just a cosmetic problem.
Pee Gee Group (late winter pruning)
• Limelight — An excellent compact cultivar that typically reaches 6-8 feet tall and the same wide. It produces large, dense, erect, cone-shaped flowers (up to 8 inches in diameter) that change color on the shrub as they mature. The flowers emerge creamy white, ripen to chartreuse-lime and eventually acquire deep rose to rose tones before finally fading to beige. As the flower display fades into fall, the dark green leaves (up to 4 inches long) turn pretty shades of red. The flowers can be cut for fresh arrangements or for drying, or can be left on the plant, where they will last until winter. Can be pruned into a small tree.
• Little Lime – Compact cultivar that typically grows in an upright rounded mound up to 3 to 5 feet tall and as wide. It is especially noted for its large, mop-like flowers up to 5 inches tall by 4 inches wide, emerging a soft light green, but ripening to pink and burgundy in the fall. Its compact, upright form, free branching and strong stems hold the panicles erect without collapsing. The flowers usually bloom from July to September. The dark green leaves (up to 2.5 inches long) are attractive during the growing season, but produce generally indistinct fall color. The flowers can be cut for fresh arrangements or for drying, or can be left on the plant, where they often persist into winter.
• Pinky Winky — Adaptable, but prefers moist, rich, loamy soils. Soil pH does not affect flower color. Prune in late winter/early spring. Fertilize in the spring. Two-tone pink and white flowers. 5-6 feet tall, eventually.
• Fire Light — Flowers emerge creamy white and age to bright red for lots of summer color. It is an excellent cut flower, fresh or dried. 5-6 feet tall.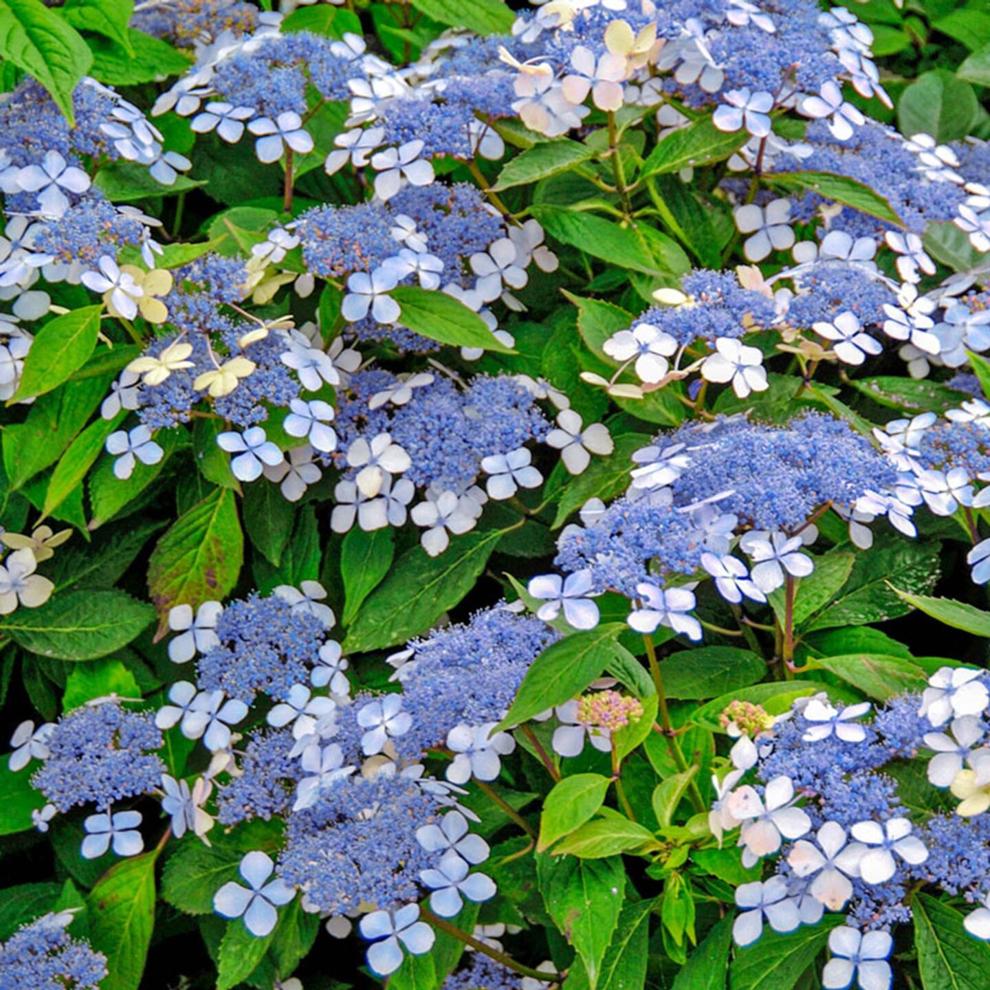 Oakleaf Group (native, prune in late winter)
• Munchkin — dwarf, compact shrub with dark green foliage turning mahogany red in fall. Its 6.5 inch white inflorescences are held upright above the foliage and gradually turn pink as they age. Munchkin grows 3 to 4.5 feet tall and wide.
• Ruby Slippers – Compact form, 3-4 feet tall and up to 3-5 feet wide, and known for its compact size, large panicles of erect flowers, ruby ​​red mature flowers, red fall foliage mahogany and its exfoliating bark. Panicles of erect, elongated, conical flowers (up to 9 inches long) showy, the flowers begin to bloom in late spring. The flowers emerge white but quickly turn pink before finally turning ruby ​​red. Distinctive, deeply lobed, somewhat coarse, dark green, oak-like leaves (up to 5 inches long) turn attractive shades of mahogany red in fall. Mature stems exfoliate to reveal a rich brown inner bark, attractive in winter.
Smooth hydrangeas (native, prune in late winter, can be cut to the ground to control size)
• Annabelle — Deciduous shrub with a rounded habit that typically grows 3 to 5 feet tall. Clusters of white flowers appear in huge, symmetrical rounded heads, which typically grow 8 to 12 inches across. Blooms in June for up to two months, sometimes with a small repeat bloom in the fall (cutting off dead flowers will encourage this). Dark green leaves (3 to 8 inches long).
Rebloom group (can be pruned at any time)
• Endless Summer — Perennial Hydrangea macrophylla shrubs that have the unique ability to bloom again throughout the spring and summer months, bringing more color and visual appeal to your garden for a longer period of time. Blooms both on old and new shoots. Known to flower 10-12 weeks longer than the average hydrangea macrophylla plant.
Drying hydrangea flowers
Harvest the buds when the flowers have matured and developed a papery consistency. Remove the leaves from the stems and hang them upside down in a warm, dry, dark and airy room. When completely dry (usually a few weeks), store in a dry place away from direct sunlight. To enhance the color of the flowers, spray the dry flowers with diluted Rit dye.